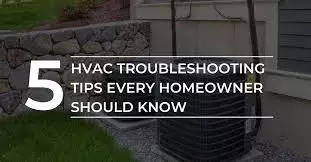 Owning a home comes with a lot of responsibilities, from lawn upkeep to roof replacement. One of the most critical responsibilities for homeowners is the upkeep of their HVAC system. Most people take their HVAC system for granted until something goes wrong, so performing routine maintenance allows for HVAC troubleshooting that may save you time and money down the road, and prolongs your system's longevity.
To ensure your system is operating at its best, here are 5 HVAC troubleshooting tips that every homeowner should know.
1. Check & Replace Air Filters
Dirty, clogged, and old filters are some of the most common causes of an insufficient functioning HVAC system. When a filter accumulates dirt and dust, it forces your HVAC system to work harder than it needs to. You should change your home's air filters every 30-60 days to maximize the performance of your system and ensure air purity.
2. Check The Thermostat
The quickest and cheapest way to troubleshoot your HVAC system is by checking the thermostat and adjusting the settings to see if your system responds accordingly. Replacing your thermostat's batteries every year ensures your system stays functioning especially in the hot summer months! If neither of the options above work, a last resort fix could be to replace your thermostat entirely, but we recommend consulting with one of our technicians before doing so.
3. Check The Power Source
This may seem like a no-brainer to some, but most people don't realize the power is out until the house suddenly gets hot or cold. If you notice your HVAC system isn't working properly, check your home's circuit breaker to make sure the house has power. If you notice the power source for just your HVAC is switched off, try switching the power source back on. If the problem persists, contact our team to ensure there isn't a larger issue at hand.
4. Clean the Outdoor Unit
When it comes to HVAC troubleshooting, the outside unit doesn't always come to mind. Your home's unit will most likely be near trees, grass, and debris, which means potential problems. Inspecting your unit routinely to ensure the unit isn't clogged with leaves, branches, and other debris is essential to your system's longevity.
5. Clean Registers, Ducts, and Vents
As your HVAC system circulates air throughout your home, it's likely that small particles of dirt, dust, pet hair, and other substances will stick to the ducts, registers, and vents. A buildup of these substances can block airflow, and ultimately lower the air quality in your home. We recommend cleaning your home's air ducts every 3 to 5 years and vents every few months to ensure your home has the cleanest air possible.
The bottom line is HVAC troubleshooting doesn't have to be complicated! When troubleshooting your HVAC system, remember to start with these minor and most manageable potential problems above.