HVAC Repair & Replacement In & Around Augusta, WV
For full air conditioning and heating services for your Augusta, WV area home or business, you can count on Mr. Heating & Cooling. With over 25 years of experience serving the Eastern Panhandle, we are the local family-owned HVAC company you're looking for in a home comfort partner. Our expert technicians can help with anything having to do with your heating and AC system, from quick repairs to full replacement. We offer specialty services to our clients as well, including ductless heat pumps and boiler work. Just call on us for full HVAC services anytime - we are here for you!
HVAC Service FAQs
How often should my HVAC system be serviced?
You should have your HVAC serviced once a year. Most HVAC system manufacturers recommend that you service both the heating and air conditioning components of your HVAC system once a year. They do, however, recommend that these two parts be completed separately. A homeowner should get their air conditioner cleaned in the spring and their furnace serviced in the fall.
What is the life expectancy of a HVAC system?
The typical life expectancies of HVAC systems are 10 to 15 years for air conditioners and heat pumps and 15 to 20 years for furnaces and boilers. No HVAC professional can tell you with certainty how long a particular furnace or air conditioning device will survive. What we can do is offer an average lifespan and discuss how you may extend the life of your system.
What are the benefits of an HVAC tune-up?
The top benefits of HVAC maintenance are:
Increased energy efficiency which

implies using less energy to cool your house. Efficiency has many advantages in and of itself, as it improves the comfort of your home and reduces system wear and tear.

Lower energy cost which

s due to the fact that your home is cooling quicker.

 Avoiding costly repairs means your system is less likely to malfunction.
Your HVAC technician will examine all the moving parts and components of your system during your maintenance tune-up visit in order to check for any potential issues.
Why isn't my furnace warming up my house?
Your furnace may not be warming your home properly because you air filter is clogged or your thermostat is malfunctioning.
Your air filter's job is to stop dust, hair, and other small particles from entering your appliance and harming it. Once these materials build up, they might clog the filter and keep air from passing through. If this occurs, your furnace won't be able to distribute heat throughout your house in an even manner. Change your filter, according to experts, every one to three months.
Raising the thermostat setting to make up for the lack of comfort is a mistake that most people make when using a broken thermostat. This stresses the system, wastes electricity, and worsens the situation. If the thermostat is malfunctioning and giving incorrect readings, it will detect the wrong indoor temperature and turn off earlier, making your indoor space colder. A competent HVAC expert ought to be able to resolve this problem.
How much is ac repair in Augusta, WV?
The price of AC repair may differ greatly depending on the specific issue, the difficulty of the repairs needed, the type of AC system, and local labor rates. While more difficult problems can cost between $500 and $1,500 or more, simpler repairs might cost between $100 and $500. The cost might be impacted by both the difficulty of the repair and the need for replacement parts. To get accurate pricing for your AC repair, it is important to have a competent HVAC technician assess the problem and provide a complete quote depending on your individual scenario.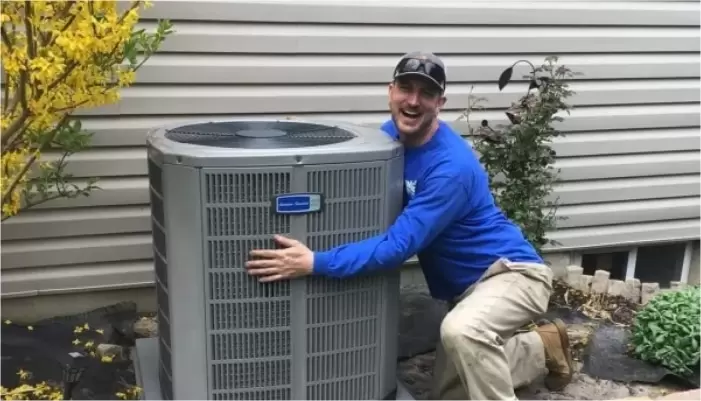 Furnace Repair
Let's face it: when your furnace breaks down or malfunctions, it's always at the worst time possible. Mr. Heating & Cooling is available when you need us for expert furnace repair service. Whether you need your furnace up and running right now or a complete inspection and tune-up to get it ready for the upcoming winter season, we are available for emergency 24-hour service and just a phone call away. Our certified technicians conduct repairs on all makes and models which are backed by a satisfaction guarantee. We service all makes and models of furnaces, heat pumps and boilers, including oil boilers.
Furnace Installation
A new furnace and heating system installed by Mr. Heating & Cooling LLC will keep you and your family warm and cozy for many years, we guarantee it! For our long winters, it's important your heating system provides season-long comfort and efficiency without breaking down. We offer complete installation services performed by our certified furnace technicians. We will complete a thorough exam before deciding to replace your unit and consult with you before any steps are taken. If you decide to replace your furnace, our team will haul away your old system and install a new high-quality unit with skill and precision.
AC Repair
Serving all communities in the Eastern Panhandle, Mr. Heating & Cooling and our expert AC repair technicians have you covered for all your air conditioning service and maintenance needs. From replacing parts and fixing your system to general maintenance inspections, our team will ensure your cooling system operates to its highest potential, safety and efficiency. Not only will we keep everything running at full capacity but we will offer insight on what you can do to keep your unit maintained between visits. We work on any make or model unit, so just give us a call to get cool and comfortable again!
Air Conditioning Installation
Whether you're facing the need to replace your central AC unit or you need a new cooling system installation for the first time, Mr. Heating & Cooling is here to help! Our knowledgeable staff can help you find a new air conditioning system that fits your lifestyle and budget. Our expert AC technicians will provide a free on-site estimate at your home to answer any questions and help you choose your next long-lasting and efficient air conditioning system. We will have your new AC system up and running at its best because it is installed the right way the first time. Contact our team for professional central AC system replacements today.
Ductless Options
A ductless system is a wall-mounted heating and cooling solution that provides enhanced flexibility and efficiency to any space in your house. This system is perfect for rooms that need to be heated or cooled but do not have existing ductwork, like an older house, new addition, bonus room or basement.
Unico Small-Duct Systems are an innovative home heating technology that provides enhanced efficiency and circulation. The small, flexible ducts can be routed and configured to reach through existing ceiling, floor and wall cavities, eliminating the need for noisy and space-eating metal ductwork. The air handlers, or ducts, are compact and highly insulated, keeping the thermal energy in the duct.
Indoor Air Quality
Our indoor air quality products and services will keep the air you breathe inside your home fresh and free of contaminants. We offer:
Indoor Air Quality Inspections
UV Lights
Whole-Home Humidifiers
Whole-Home Dehumidifiers
CO2 Detection
And More!
Water Heater Repair & Replacement
Don't go another minute without a hot shower! Our team will either fix your broken hot water heater or replace it if necessary. We work on any make or year of water heater as well as both standard tank and tankless systems.