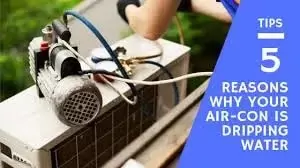 An air conditioner (AC) keeps your house cool and comfortable by pulling heat and humidity from the air. As the AC extracts humidity from the air, it generates condensate, or water, in your furnace or air handler. This water is typically sent to a drain pan and transported through piping into your home's drain system.
Unfortunately, a malfunction or sludge buildup can cause the piping to become clogged. When this happens, water returns to the drain pan in your furnace or air handler. It can then leak into your home. This is particularly troublesome if your furnace or air handler is located in the attic or above a finished ceiling.
In a majority of homes, building codes demand a secondary or safety drain pan that is put underneath the furnace or air handler. This secondary drain pan has piping that is sent to the outside of the home. Usually, the outlet of the pipe is located above the outside of a window so it's quickly noticeable if water begins draining from this pipe outlet. It is not normal for this to occur. If you see water draining from piping on the outside of your home, this is likely evidence the primary drain is backed up and water is now draining from the safety drain pan.
Here are the most general explanations for why your AC is leaking water and how to fix the issue. Some homes may also possess a safety device that can automatically switch off your AC in the event the drain becomes clogged. In this case your system will stop cooling until the drain is free of any obstructions. Regardless, if you spot water leaking, be sure to set your thermostat to "off" to stop anymore water damage and get in touch with a Mr. Heating and Cooling LLC service provider to correct the issues.
Leaking air conditioners routinely require professional repairs, which is why we're here to assist you at Mr. Heating and Cooling LLC. We proudly deliver Expert air conditioning repair across North America, backed by a 100% Satisfaction Guarantee.*
1. Condensate Drain Is Blocked
When hot, humid air runs along the evaporator coil, water appears on the cold metal surface. In the end, the water drains into a pan beneath the indoor coil inside the furnace or air handler. As the cooling sequence occurs, the condensate flows out of the pan and into drain piping before the pan fills up.
However, mold, mineral deposits, dirt and other debris could clog the drain. This prevents the water from moving away properly. Trust the unclogging process to an Expert like Mr. Heating and Cooling LLC for the peace of mind it's done properly and without causing more damage. Service Experts can also put in a safety device that will automatically switch off your AC if the drain becomes backed up again sometime after, thus avoiding water damage inside your home. Of course, routine maintenance on your AC will help keep your condensate drain clear and unhindered.
2. Drain Line Is Disconnected
While not very common, the drain line connection to the drain pan may become loose or disconnected. This can be the cause if someone is working around the unit or when swapping out the air filter. AC leaks may occur when the drain line breaks free from the pan. Inspect your AC to determine if the drain line is still connected to the coil drain pan. If it is no longer connected, we suggest calling an HVAC technician to take care of this issue immediately. Request an appointment with Mr. Heating and Cooling LLC today.
3. Condensate Pump Isn't Working
Some air conditioners require a condensate pump to efficiently drain the water. These pumps are compulsory when the home's drain system is located above the AC unit. Even if the drain is clear, water might back up in the pan and leak out if the condensate pump is faulty. First, make sure that the pump is being powered. If that's not the case, the AC leak could be due to a broken condensate pump. You should contact an air conditioning contractor like Mr. Heating and Cooling LLC to resolve the issue.
4. Evaporator Coil Is Dirty or Cracked
If you see tiny drips in favor of a more substantial puddle around the outside of your furnace or air handler, water could be splashing off the evaporator coil compared to properly flowing into the drain pan and condensate line. This can be the case if the coils are dirty, or if holes in the insulation around the coils redirect the water. The easiest approach to keep the evaporator coil from going downhill is to keep up with annual air conditioning maintenance using a Mr. Heating and Cooling LLC membership.
5. Low Refrigerant Level
If you find a leak and the AC isn't cooling like it's supposed to, the refrigerant level may be low thanks to a leak. Air conditioners rely on refrigerant to create cold air, so getting it checked regularly during seasonal maintenance is very beneficial for the longevity of your unit. Without enough refrigerant, the evaporator coils may freeze over and cause the drain pan to overflow as they thaw. Despite some expectations, your AC does not need to be replenished unless there is a leak. The system is sealed and recharging is only necessary when a leak appears within the system. Call Mr. Heating and Cooling LLC as soon as possible to repair AC refrigerant issues quickly.
6. Dirty Air Filter
Your air conditioner's filter should be changed regularly to encourage enough airflow. Without adequate ventilation, the evaporator coils could become too cold and freeze. The evaporator coils will then thaw, causing excess water to collect in the drain pan—possibly creating an overflow. To resolve this, try changing your air filter. If the problem doesn't go away, additional repairs will sometimes be the best option. Thankfully, HVAC technicians from Mr. Heating and Cooling LLC are willing and able to serve you, ensuring the problem gets fixed.
7. Outdoor Temperature Is Too Cold to Run AC
Air conditioners are made to be used during warm weather. Using your AC when outdoor temperatures are 60 degrees Fahrenheit or lower could cause the evaporator coils to freeze. Once thawed, the water and ice will drop off the evaporator coils and possibly result in an overflow due to ice blocking the drain pan opening. If a water leak persists, schedule a MR.HEATING AND COOLING LLC technician backed by our 100% service guarantee* to help solve the problem.
8. Damaged Drip Pan
Air conditioners are manufactured to last, but nothing lasts forever. If you have an AC that is 12 years or older, the drip pan could be damaged or corroded after years of normal use. If the drain pan has holes in it, a water leak could appear as condensate seeps directly through it. Mr. Heating and Cooling LLC can replace the drain pan and ensure your AC gets back to working properly.
Our Experts Can Tackle All Your Air Conditioning Repair Needs
Whatever the reason why your AC is leaking water, Mr. Heating and Cooling LLC can repair the damage. We'll troubleshoot and fix your air conditioner, getting it back to running again right away.
Our technicians are highly trained, knowledgeable and certified to provide quality work. We have full confidence in our repairs—in fact, we back up everything we perform with a one-year 100% Satisfaction Guarantee!*
We'll even talk about enrolling in a worry-free membership plan. This will sometimes help you catch AC issues, like water leaks, promptly so you can avoid future breakdowns while keeping your house comfortable.
Contact us at (304) 490-5555 to schedule your air conditioning appointment in North America today!