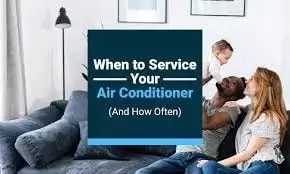 Once the hot summer temperatures settle in, your air conditioning system becomes the star of your home. Since you depend on your AC to keep you cool and comfortable, it's crucial to schedule air conditioner maintenance on an annual basis. However, you might not know when you should schedule AC service.
Let's go over the best time to schedule AC maintenance and why these routine services are essential to your household's comfort.
What Time Of Year Is Best For AC Maintenance?
So, when should you schedule AC service? Generally speaking, the best time to schedule AC maintenance is during the spring. The spring season is often cooler than the summer months, so you won't have to worry about competing with the summer rush. Plus, this is the optimal time to schedule maintenance for your AC unit because you will prepare your system for the hot weather before it arrives.
Different HVAC systems have varying maintenance requirements. For example, you should schedule maintenance for your heating system during the fall. When it comes to heat pumps—which can be used for heating and cooling your home—it's ideal to book maintenance every six months.
Why Is Routine AC Maintenance Important?
While it's excellent to know the best time to schedule AC maintenance, knowing how often to book an appointment is just as vital. Overall, you'll want to book a maintenance service at least once a year.
During maintenance, a professional HVAC technician will inspect the AC system, perform a series of tests, and complete repairs if needed. Routine maintenance services include checking the evaporator coil, cleaning the condenser, and replacing the air filter, among many other tasks.
Improved Energy Savings
Now that you know when you should schedule AC services, you likely want to know the advantages. One noteworthy benefit of regular maintenance is improved energy efficiency. When your air conditioner is more energy-efficient, the system will waste less energy while it runs. This is excellent news because you and your family can potentially save money on your energy bills.
Enhanced AC Performance
Spring is certainly the best time to schedule AC maintenance because you will ensure your system is running at peak performance. When your home's air conditioning unit is running smoothly, you can experience improved comfort. After returning home after a long day, there's nothing more relaxing than entering a cool and comfortable home.
There are many ways your AC can benefit from regular maintenance. If you have questions about getting your air conditioner serviced, our Martinsburg air conditioning specialists are here to answer them.
Contact The AC Maintenance Experts
When should you schedule AC service? While spring is generally the best time to schedule AC maintenance, there is no "wrong time" to get your system serviced. If it's time to schedule a maintenance appointment, turn to the professional technicians at MR. Heating and Cooling LLC.
Our team performs a wide range of heating, air conditioning, and home comfort services, including HVAC maintenance. Contact us right away to schedule an AC service near Martinsburg, WV